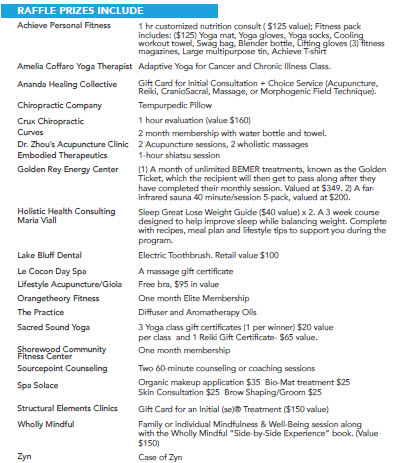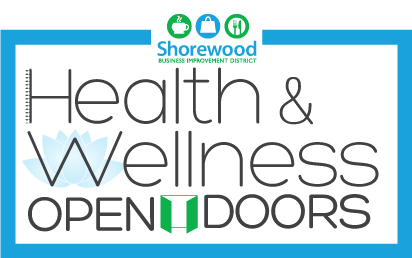 The Shorewood BID and the Health, Wellness & Fitness businesses of Shorewood are joining forces to bring the Village an opportunity to learn about the plethora of health and wellness available to us right here in Shorewood! From 10-3pm on Saturday, October 13th, you can visit the participating businesses below and get a behind the scenes experience!
Promotional Support provided by 

Download or pick up an event schedule booklet to see where to start. Stop by as many participating businesses to enter the raffle to win numerous great prizes! Prizes are listed in the event booklet.
Here is the schedule for October 13th!
Achieve Personal Fitness
IN CENTRAL LOCATION – 3970 N. OAKLAND AVE.
1:00 pm – 30-minute general nutrition presentation "How to Eat for Your Goals" followed by Q&A
Amelia Coffaro Yoga Therapist
IN CENTRAL LOCATION – 3970 N. OAKLAND AVE.
10:15 am and 11:30 am – 15-minute guided awareness & self compassion meditation practice
Ananda Healing Collective
4528 N. Oakland Ave.
11:00 am and 2:00 pm – How our therapies assist with cellular healing of emotional and toxicity patterns' (Acupuncture, Reiki, CranioSacral Therapy, Massage, Morphogenic Field Technique and Human Design)
10:30 am – 1:30 pm – Face painting
1:00 pm – 4:00 pm – Music
2:00 pm – 4:00 pm – Henna artist
15-minute chair massages throughout the day
Anytime Fitness
4009 N. Oakland Ave.
11:00, 12:00 and at 1:00 pm offering small group workouts lead by a personal trainer. Anyone joining will be offered a free month and 3 free personal training sessions.
Behrens Psychotherapy Services, LLC
IN CENTRAL LOCATION – 3970 N. OAKLAND AVE.
10:00 am to 3:00 pm – Individualized Q&A with Jenna
Chiropractic Company • Shorewood
IN CENTRAL LOCATION – 3970 N. OAKLAND AVE.
Demonstrating computerized diagnostic scans throughout the day. Complimentary spinal examination, x-rays (if needed), and diagnostic scan for new patients. Existing patients will be entered into a drawing for a one hour massage.
12:00 pm – 30-minutes movement demonstrations by a Feldenkrais Practioner, to experience agile movement, pain free.
Crux Chiropractic
2211 E. Capitol Dr.
10:30 am, 11:30 am, 12:30 pm, 1:30 pm, 2:30 pm – 15-minute demonstrations on Movement Assessment to reveal the underlying causes of our aches and pains
and then learn how to fix them for good
10:00 am – 3:00 pm – Bring the kiddos to color a pumpkin to display in our "pumpkin patch" – anyone young at heart can also participate. And free coffee!
Curves
4473 N Oakland Ave.
10:00 am to 3:00 pm – Body fat testing and mini workout demonstrations throughout the day
Dr. Zhou's Acupuncture & Pain Clinic
4600 N. Oakland Ave.
Free gifts and door prizes throughout the day
11:00 am -1:00 pm – Free chair massage
11:00 am-12:00 pm – 60 – minute presentation on self-accupressure for pain relief & stress reduction by Dr. Xiping Zhou
Embodied Therapeutics: Shiatsu & Therapeutic Yoga
IN CENTRAL LOCATION – 3970 N. OAKLAND AVE.
10:00 am – 3:00 pm – Meet Kate Hubbard, Embodied Therapeutics owner/practitioner. Learn more and ask any questions you may have about shiatsu and customized, adaptive yoga. Enter a drawing to win your choice of a free shiatsu or yoga session for new clients.
Golden Rey Energy Center
4210 N. Oakland Ave.
Free smoothie and supplement samples. Complimentary BEMER (PEMF) treatments all day. Tours of the center including descriptions and Q&A of the 5 treatment offerings (HBOT, BEMER, Far-Infrared Sauna, Ozone Sauna and Auricular Ozone).
10:30 am – Benefits of BEMER
12:00 pm – Concussion's Missing Cure: Hyperbaric Oxygen Therapy
1:30 pm – Ozone for Infection and Autoimmunity
Maria Viall Holistic Health Consulting
IN CENTRAL LOCATION – 3970 N. OAKLAND AVE.
11:00 am – Presentation on gut health
Lake Bluff Dental
1720 E. Lake Bluff Blvd.
11:00 am & 1:00 pm – Implant Discussion and Q&A with Dr. Griffin
Le Cocon Day Spa
3811 N. Oakland Ave.
12:30 pm – 3:00 pm – Informative tours & discussions on our full list of services
1:00 pm & 2:00 pm – talk-backs on the various kinds of massage and the benefits of each
12:30 pm – 3:00 pm – 10-minute chair massages
Lifestyle Acupuncture/Gioia
1431 E. Capitol Dr.
10:00 am – 3:00 pm – Come learn about how the principles of traditional Chinese medicine enhances the flow of Qi (energy) and how your bra choice can promote better health. Fittings also available.
Orangetheory Fitness Shorewood
4155 N Oakland Ave.
Stop in the studio and enter the raffle for a One Month Elite Membership
10:30 am -1:15 pm – Observe Classes and speak with a Coach and/or Member Specialists
1:30 pm – 3:00 pm – Studio Tours and speak with a Coach and/or Member Specialists.
PowerCycle
4521 N. Oakland Ave.
Enter in a drawing for free rides and t-shirts and leave with some swag
10:00 am – 3:00 pm – ongoing 20-minute sessions, each spending 8-12 minutes demonstrating cycling and discussing benefits, 8-12 minutes demonstrating
BodyPump and discussing benefits.
The Practice MKE
IN CENTRAL LOCATION – 3970 N. OAKLAND AVE.
All day demonstrations on coping skills
Sacred Sound Yoga
3805 N. Oakland Ave.
10:00 am -12:00 pm – Prayer Circle Blessing Party with Sound Healing (please arrive on time, as we will be meditating)
12:00 pm -1:00 pm – Open Door, stop in and meet Rosie Rain, have a cup of tea & see the beautiful studio
1:00 pm – 3:00 pm – Continuous 15-minute yoga sessions – Experience perfect harmony in just a few minutes with some basic centering/balancing techniques (Children & babies are welcome & encouraged to participate. Sacred Sound Yoga offers several classes for children of all ages.)
Shorewood Community Fitness Center
1701 E Capitol Dr.
Offering free day pass all day
Sourcepoint Counseling
4447 N. Oakland Ave. LL
10:15 am, 11:15 am, 12:15 pm, 1:15 pm, and 2:15 pm – Carolyn will offer a brief introduction to her therapeutic approach as well as give participants a couple of useful strategies to practice in support of their mental/emotional well-being. Individualized Q & A is available following each intro session, as time allows.
Spa Solace
4405 N Oakland Ave.
11:30 am – "Coming Clean" An Intro to Organic Products
12:00 pm – "Living Aromatherapy" How to enhance your well-being with aromatherapy
Structural Elements
4529 N. Oakland Ave.
All day, walk-in 15-minute mini (se)® Treatments.
10:00 am, 12:00 pm & 2:00 pm – "The Anatomy of Health"(se)® Who We Are & What We Do
10:30 & 2:30 pm – "Dry Needling vs Acupuncture" Facts, Fiction & How We Use Both
11:00 am – "Staying Active While Aging"
1:00 pm – "Orthotics & The Athlete"
Wholly Mindful, LLC
IN CENTRAL LOCATION – 3970 N. OAKLAND
10:30 am – Foundations of Self-Compassion training (for Adults 14 yrs & up)
2:00 pm – Parent-Child Mindfulness and Well-Being session (for children ages 6 & up with an adult caregiver)