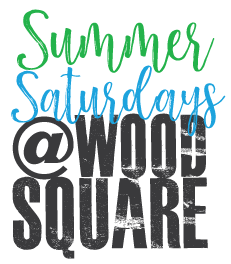 August 11th – 10am – 2pm
The inaugural year! Located in the area now known as Wood Square (the outdoor market spaces just South of MOD Pizza on Oakland and Wood), one Saturday of each month during the summer will be filled with local vendors and family fun
Our Awesome Back to School vendors (getting updated daily!) for August 11th include:
HuVo – Spinning tunes to get us all moving for the first ever Wood Square Dance Party!
OnezieTwozie Boutique – Selling the best handmade booties and kid items ever!
Feltasaurus – Unleashing all sorts of fuzzy cuteness since 2009
Structural Elements – Donating mini SE® Sessions.
Orange Pops – High quality, handmade, original works of art inspired by bright colors and positive themes.
MissMashed Up – A Shorewood mother and daughter duo that offer vintage mashups and the latest styles!
Soft Goods by Janet – Selling adorable handmade doll accessories and doll blankets
Mac & Mia – Boutique kids' fashion
Little Sprouts Play Cafe – Kid's crafts
Little Brew Bar by Little Sprouts Play Cafe– Selling cold brew, snacks
Pete's Pops – handmade, interesting, and fresh fruit popsicles
StreeTaco – Shorewood's best tacos
Face painting by AliciaFor sponsorship opportunities, please click here! To be a vendor, click here to email Sarah!